Website Innovation Helps Sod Retailer Exceed Sales & Marketing Goals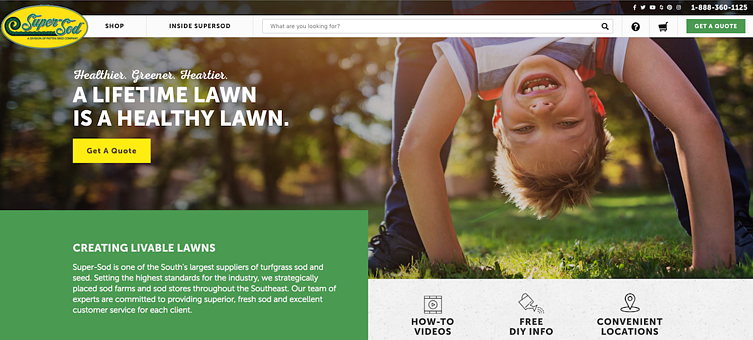 See how Super-Sod's growth has accelerated since partnering with Ascend for a website redesign on HubSpot's CMS.
The Client
With locations throughout Georgia and the Carolinas, Super-Sod is one of the nation's leading producers and retailers of sod, seed and compost.
Super-Sod is a family-based company that strives to create the best turfgrass sod and seed products for their customers. The Super-Sod name was born in 1980 to better reach expanding urban markets, but the principle behind striving for superior products began years before with Patten Seed Company.
Strategically-placed farms and outlets around the Southeast allows Super-Sod to provide superior, fresh sod to each customer. Their mantra "to do better today than we did yesterday" speaks to their culture of continuous improvement and dedication to customer service.
One thing we love about Super-Sod: their passion. These guys LOVE lawn care and gardening, and it shines through in everything they do. From their helpful how-to blog posts and videos to the real-live experts on deck to answer questions on live chat. We love working with happy folks, and nothing delights the people at Super-Sod more than giving their customers a lifetime lawn.
The Challenge
The highest converting page on Super-Sod's was (and still-is) their "Free Sod Quote" offer, but follow-ups for sod quote requests were lacking. The client felt there was missed opportunity in sod deals that were falling through the cracks due to lack of follow-up.
Furthermore, while their website was fairly modern, it was heavily text-based, difficult to navigate and didn't showcase their abundance of beautiful photos and helpful how-to videos.
The Solution: A Website That Could Live Out Super-Sod's Mantra of "Being Better Today" (Than It Was Yesterday)
When Super-Sod decided to go with HubSpot for their sales and marketing organization, they partnered with Ascend for the implementation and training in HubSpot's tools.
Ascend worked with the team at Super-Sod to develop complex workflows that could handle RFQ follow-ups from across their wide ranging service area throughout the Southeast. We also trained them on best practices for using the tool day-in and day-out to handle their marketing, sales and reporting activities.
Once the team was geared up for success, they continued to build upon their workflows and campaigns and now HubSpot serves as the true hub for their sales and marketing activities.
Taking the Plunge: Full Website Redesign
Now that their HubSpot portal was rocking and rolling, Super-Sod was ready to take the plunge into a full redesign of their massive website.
The Super-Sod team was understandably concerned about the redesign project. For starters, their website contained over 500 pages of highly-trafficked content. With previous redesigns with other agencies, they experienced a 20% drop in search engine traffic for six months before it started rising again.
We created a detailed plan of action for tackling Super-Sod's mountain of content, and phased out the website development project into a 4-month timeline with clearly defined deliverables and targets.
We carefully ensured that the technical SEO structure of the new website was sound, porting over content so that titles, URLs and meta descriptions remained in tact in most cases, but adjusting/improving these items when it made sense.
The newly designed website is a welcome departure from its text-heavy predecessor. In addition to updating the design, we added interactive features, such as a auto-locating store finder and a sod selection tool to lead you to your perfect sod type. From an internal standpoint, Super-Sod's team loves using HubDB to easily add and edit content throughout the website.
Content Strategy to Fuel Engagement and Conversions
Super-Sod has tons of great content, so our strategy centers around optimizing existing content, creating content pillars for high impact keyphrases and adding relevant CTAs to keep visitors on the site longer (and better yet, convert them into leads). Furthermore, we advise Super-Sod's team on which topics and keyphrases will drive valuable traffic, and they use these topics as a guide when writing weekly posts.
Behind the Scenes Video
Our video team worked with Super-Sod to develop a behind-the-scenes look at sod is grown and harvested, and then delivered straight to the consumer. The video has received over 8,000 views across YouTube and Facebook.
Collaboration and Reporting
Each month we provide detailed reporting of their website and HubSpot performance and deliver recommendations on areas to improve and areas to apply more force.
We hold weekly stand-up calls with Super-Sod's sales and marketing leaders to touch base on current initiatives. Not only does it give them a chance to communicate with us on current projects, but it keeps the lines of communications open between sales and marketing, which has become much more aligned in the years since we started working with them.
The Results
"HubSpot is a galaxy and the folks at Ascend are calm-yet-enthusiastic, whiz-bang-yet-unpretentious intergalactic guides."

-Hillary Thompson, Marketing Director
That 20% decrease in organic traffic? It didn't happen this time. In fact, we saw almost a 27% increase in website traffic year over year.
Even better, Super-Sod has seen a 59% year-over-year increase in new leads, and their RFQ landing page conversion rate has improved from 17% to 23% since we launched the new website. But we didn't stop there. We recently launched an online sod store where users can actually purchase sod directly from Super-Sod's website. The sod store launched just a few weeks ago and is already seeing remarkable sales.
Hear straight from Hillary Thompson, Director of Marketing at Super-Sod, about her experience working with Ascend