Now's The Time: Plan For 2019 [Checklist]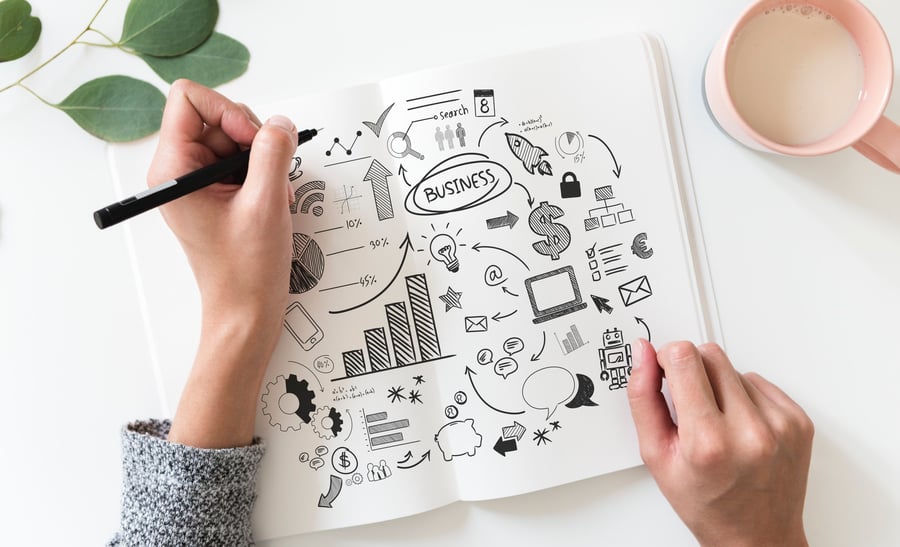 It's critical to carve out some time to plan for the year ahead. Here's where to start.
2019 will be here before we know it. While Q4 is busier than ever for most businesses, especially retailers, it's critical to carve out some time to plan for the year ahead.
Feel like you're juggling a million priorities between closing out a strong year end and getting ready for the new year? Don't think you have time? Make time. A small amount of planning now will position you for a successful Q1 come January.
Determine your top three marketing priorities for next year.
Notice this statement begins with determine, not decide. There's a difference. Anyone can make a choice on what to focus on. Smart marketers will review their 2018 wins and losses, figure out the most important items moving forward — what should you do more of, what should you do less of, what needs work — and establish concrete goals based on this internal review.
Hopefully you already have some formal structure to assess your marketing performance, whether it's a daily dashboard, monthly reporting review, and/or checking in on sales performance. If not, start there. How do you determine which activities are the most valuable and most successful? This could be a combination of website traffic, conversion rates, leads generated, and more. Focus on what moves the needle for your business.
No time to read the full post now? Get a copy of the checklist for later.
Use the SMART framework to outline these marketing priorities. You've probably heard of SMART before, so we won't get in to it too much here. Bottom line is, make sure your priorities are specific, measurable, attainable, relevant, and time-based. Describe the marketing priority in detail, put a number behind it, check that it's realistic, confirm it supports your company's vision, and assign a deadline.
Write these down. Do not put them in a drawer. Share them with your team and put them front and center. Revisit at the end of January and evaluate your progress.
Review your content strategy.
Perhaps developing your content strategy is one of your priorities for 2019. If so, great. Get started asap. (HubSpot has a great start-to-finish guide on the topic that's a good starting point.)
If you have a content strategy in place, nice work! Be sure to look it over. Here are key questions to ask as you're crafting or reevaluating your content strategy:
Is it creative? Relevant? Up-to-date?
Does it target the audience you're after? Meet your customers where they hang out online? Capture any new audiences?
Have you investigated new topics and ways to present your content? Repackaging existing content in new formats can help you scale your content.
Does it include video?
Is it organized? Make sure you have an editorial calendar as well as a social media content calendar. Your editorial calendar will help you brainstorm and create your own content on deadline, while your social media content calendar will help you promote that content.
If you're creating your content strategy for the first time, this can seem like a daunting task. This is not something you will be able to knock out in an hour, or even a full day. Start with a small foundation, check in once a month, and continue to build it out in 2019.
Communicate with your customers like it's 2019. (Because it is.)
Competition is fiercer than ever these days, especially between online retailers. Whether you're a major online store or the shop around the corner, it's imperative that customers can contact you easily. It could be the difference between an abandoned cart or a successful checkout — or a visit to your boutique or a lost sale.
Perform a quick audit of your website, social profiles and any other listing where customers may find your contact information. Ensure all phone numbers and contact email addresses are accurate. Train team members to answer the phone promptly and provide a central method for noting phone messages if a customer needs calling back. (It's as simple as a notebook by the phone.) If possible, enable a voicemail box for customers to leave phone messages after hours. Follow up with those customers the next business day. Make sure an employee is checking your company's general email inbox and responding to messages promptly.
[Looking for more help on getting started using chat? Check out the Ultimate Guide to Inbound Marketing for eCommerce.]
To up the competition, add chat capabilities to your website. If you can't implement chat there, use Facebook Messenger on your business Facebook page. There are options for customizing personal greetings and prompting customers to engage with you. These chats can lead to real sales. This said, chat does not mean you have to be available 24/7. Set expectations on response time via automated replies. Most people just want to know someone will get back to them in a reasonable amount of time.
Don't ignore your online reviews. Monitor your business on Google, Facebook, and any other network that's relevant for your industry. Thank positive reviewers and invite them to return. While you may want to stress out over a negative review or chuck your phone across the street, don't do either. Instead, recognize the feedback and move to take the conversation offline. Reply promptly and thank the person for taking the time to share their comments. Provide your business phone number and/or email, and let the reviewer know you would be happy to discuss further one on one. If appropriate, ask for the opportunity to make it right. All in all, craft your response based on the situation. But most importantly, acknowledge the review and post a response.
Include professional development in your game plan.
If there's one thing that's true in marketing today, it's that it's changing more quickly than ever before. If you're not constantly challenging yourself or "leveling up" your skillset, you and your company will be left behind.
Research professional development opportunities that relate to your role and your career advancement goals. Think about what you want to improve upon and what you want to be an expert in. Start a spreadsheet with the topic, resource link, and if applicable, location.
Commit to completing one professional development activity per quarter. This could be as simple as reviewing free content from thought leaders and reading industry publications regularly. Also consider taking practical assessments that come with certificates to demonstrate your skillset. Identify one in-person conference in your region, itemize out the cost, show the ROI, and make the case to your boss to attend in 2019.
Make one work-related New Year's resolution.
With all this planning, you've got to have a little fun. Think on an aspect of your day-to-day that you'd like to improve in 2019. It doesn't need to be difficult. (Have you been wanting a plant on your desk? Get one. Want to be more punctual in the morning? Make it happen. Looking to be friendlier around the office? Simply say hello to coworkers as you pass in the hall.) Make a personal note of it and get started January 1.
Looking Ahead
Planning for 2019 now is only the beginning. Consider your marketing priorities, content strategy, customer communication, professional development opportunities, and focus on those where you can make the most impact. Come January, you'll be glad you did.