5 Services You Didn't Know We Offered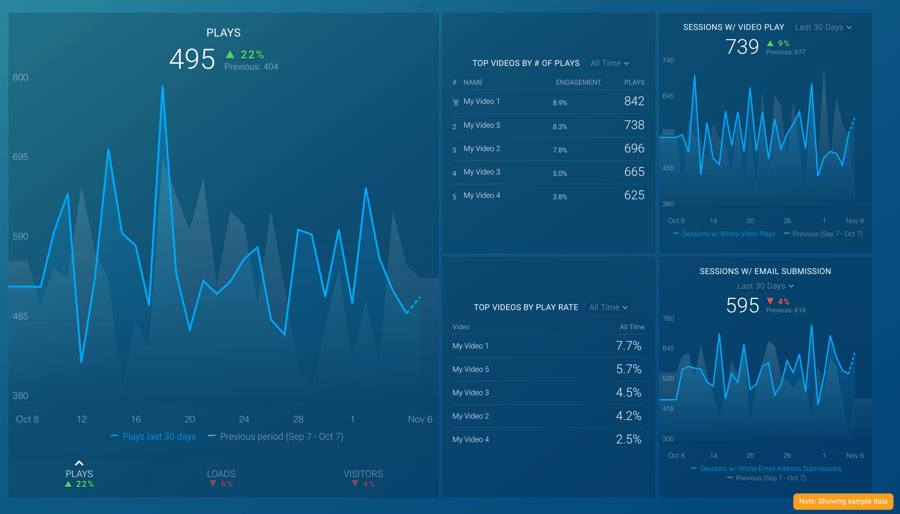 We're not normally this overt with our sales messaging, I promise ;)
The reason I'm writing this post is because our clients typically engage us for one or two services and sometimes don't realize we have other offerings. Perhaps you know us through our parent company, Nexxtep. Or maybe you bought one of our templates on the HubSpot marketplace. We are happy to be of service in a number of ways. Here are some ways we can help, that you might not know about:
1. Sales Enablement
It's 2018. Every business should (and almost all do) have a website. But do you know what else your business should have?
A CRM.
In this day and age, tracking customer activity by spreadsheet (or worse, pen and paper) just doesn't cut it. A CRM allows you to track customer/prospect activity and manage follow ups effortlessly. HubSpot's CRM is free, but trying to set it up on your own can be overwhelming. That's where our sales enablement services come in. We can get you up and running with a CRM in just a couple of weeks, and help you optimize your sales processes over time.
We also provide reports to give you a bird's eye view of our sales enablement efforts, and your sales team's performance.
You can track:
Sales rep activity (meetings, calls, emails, etc.)
Deal forecast
Deal pipeline performance
Lead to close ratio
Sales collateral performance
(much more)
Sample CRM Report:
Pricing: Sales Enablement projects start at less than $1,000
2. Video
We're proud to have on our team Greg Block, a seasoned video producer with 15 years experience in television and online video production. With Greg's capabilities and the creative direction of Steven Carter, we produce engaging video that amplifies your brand's exposure and boosts your lead generation efforts. Furthermore, we use tracking tools to learn which content engages your users the most, and which videos produce the most leads and customers for your organization.
We produce live action and animated video, and Greg is FAA certified to capture drone footage.
Here are some examples of our recent projects:
Here is a sample video report:
Pricing: Video projects start at $1,500.
3. Marketing Auditing and Reporting
Are you curious how well your website and marketing efforts are performing? Are you sure there are no errors on your site preventing Google from accessing it? Are your local listings up to date?
We offer full auditing services to gauge the health of your website and identify things you can easily do to improve traffic and conversions.
HubSpot Portal Audits
For HubSpot customers, we offer Portal Audits: If you've been using HubSpot for a while, you may be wondering, "What can I do to make the most of my HubSpot subscription?" That's where our Portal Audits come in. We'll examine your workflows, emails, landing pages, and other assets of your choosing and provide feedback and recommendations in a summative report.
Call Tracking and Reporting
You spend time and money advertising your business, but do you know what ads, pages, and keywords are driving inbound phone calls?
Call tracking software can help. Through our partnership with CallRail, we can show you if calls are coming from direct mail, organic search, paid ads, and more.
Reporting Dashboards
You've probably noticed the reporting screenshots peppered throughout this post. These are examples of reports that we custom build for our clients. We offer reporting services to tie all of your marketing efforts together. Do you wish you had a report that tied in your HubSpot metrics with your Google AdWords reporting? Or one that reports on all your social media exposure across one dashboard? We can build that.
Sample Report:
Pricing: Auditing starts at $500. Reporting services start at $100/mo.
4. PPC and Social Ads
Ascend is a Google Partner, which means we have met strict criteria to become certified in Google's advertising tools. Not only must our employees take courses and pass several tests to gain individual qualification, our agency must maintain a certain level of ad spend and maintenance each month. We manage tens of thousands of dollars a month in ad spend across platforms such as Google Ads and Facebook. Across the board, we see industry leading click-through-rates and conversion rates for our clients. We incorporate video, detailed targeting and a full-funnel strategy with our campaigns.
Example Video Ad:
Ad Performance Report:
Pricing: Varies based on ad spend and complexity of campaigns.
5. Marketing Retainers
Back in the day before we branched out from Nexxtep to form Ascend, we were known for building websites. For many years, website design was our primary service. But we realized that businesses needed more than just a website; they needed a strategy and the effort behind it to put their websites to work. That's when we partnered up with HubSpot, expanded our team, and started offering full service marketing retainers. Partnering with us on a retainer is like hiring a full marketing department at a fraction of the price of managing multiple full-time salaries with benefits. We handle all of your marketing activities, work with you to develop a strategy, and report on your results every month.
Pricing: Starts at $4,000/mo.
Interested in Learning More?
If any of these services piqued your interest, we'd love to sit down and chat with you.