How Inbound Marketing Helped 48forty Solutions Increase Leads By 332%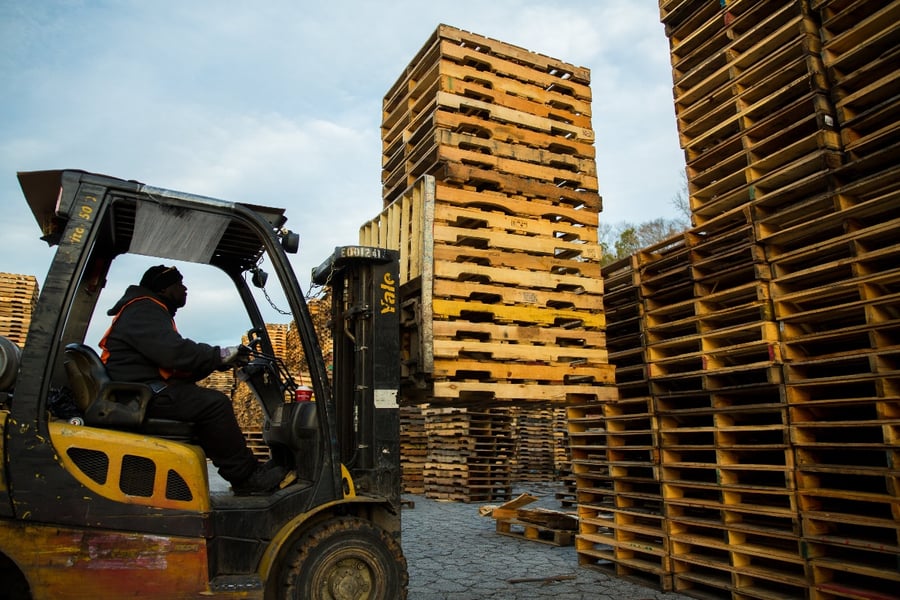 See how 48forty's growth has accelerated since partnering with Ascend for full inbound services.
The Client
48forty Solutions is the largest recycled pallet management services company in North America, with a national network of more than 225 facilities, including 45 company-owned and operated plants and more than 180 affiliates.
More than 2,700 customers across a variety of industries trust 48forty to provide reliable, cost-effective, end-to-end pallet solutions. The company's history dates back to 1996, having been through several acquisitions over the past twenty years. So while the name 48forty Solutions might be new, the business and employees behind it possess an exceptional breadth and depth of industry expertise.
The most recent evolution started in August 2017. A major supply chain logistics group announced plans to divest itself of its North American recycled pallets business, indicating that division's growth outlook would improve under alternative ownership. A private equity firm finalized the spinoff's purchase in January 2018, and the new company officially launched that March as 48forty Solutions. (Commonly referred to as "48forty.") In that short timeframe, Ascend led the company's website design and HubSpot implementation, and has had the pleasure of working with 48forty ever since.
Two things we love about 48forty is their passion and drive. From sharing helpful blog posts, to recognizing employees and their achievements on social media, to providing high quality customer service, these folks LOVE pallet management, and it shines in all that they do.
Just a few members of 48forty's corporate team.
The Challenge: A Tight Timeline And A New Company
The tight timeline between the purchase and launch was critical. The purchase was finalized in January 2018 and 48forty was set to launch less than two months later during the first week of March. The VP of Global Sales needed to act quickly to secure a brand and website for the company. With such a short timeframe, she sought the help of an experienced agency to get a professional, custom-designed website created in less than a month. She was familiar with HubSpot after using the tool in a previous role. After vetting several HubSpot Partner agencies, the executive chose Ascend to lead the website design and HubSpot implementation.
She knew it was crucial for 48forty to make a strong first impression within the industry and among customers, as well as deliver business. The website needed to help 48forty achieve three major goals:
Introduce the new company and establish its new brand;
Convey that though 48forty was under new ownership, they still had the same unmatched infrastructure, veteran employees, and resources to provide customized, end-to-end pallet solutions; and
Quite simply, generate leads.
All in all, 48forty didn't just need any website, the company needed a website that would immediately establish them as pallet experts and bring in the right kind of leads. Ascend was the right partner to help make all this happen.
The Solution: A Powerful Lead Generating Website and Marketing Strategy to Take Business to the Next Level
Lay The Foundation: Website and HubSpot Implementation
It probably goes without saying that the website and HubSpot implementation was top priority.
Ascend developed a site that was not only aesthetically sound, but that incorporated key aspects of HubSpot's CMS to deliver an optimal user experience.
Ascend's certified HubSpot CMS Developer John Fuller discusses technical components of the website build.
The homepage features a modern tiled design that looks great regardless of the user's device. Ascend enhanced HubSpot's layout.css file with CSS Grid and Flexbox to create this modern layout.
Each tile is used to display smart content based on a user's persona or lifecycle stage. Another tile allows marketers to display recent blog posts through a dedicated tag in HubSpot.
Within the site, Ascend's development team used HubDB (HubSpot's robust database feature) to develop custom modules.
One of these custom modules is used to manage the company's 40 locations. The locations module displays locations based on the user's proximity. Additionally, each plant has its own individual location page. Managing the information in HubDB makes it easy to update changing information, create new locations, and scale as 48forty's business scales.
In addition to location information, the timeline and leadership sections of the website are managed with their own HubDB modules. This allows for content marketers to add and remove items easily and dynamically without having to wait on development resources.
Most would say that a website is only as good as the leads it's bringing in. With a national network and a large sales team, lead routing had to be seamless and easy to update after territory or personnel changes.
Ascend used Workflows and Active Lists to assign contact owners and email notifications for more than 40 regions. Instead of having long lists of zip codes live as trigger criteria within a Workflow, each territory area is managed via one source-of-truth Active List based on that region's zip codes. That Active List is then used in Workflows where needed. This way, if the zip codes within a territory change, the only place that needs updating is the one source-of-truth Active List. Additionally, by including certain fields in the request a quote form, we've been able to set up and use Workflows to alert certain salespeople to high impact opportunities, regardless of location.
After a successful website launch and HubSpot implementation, 48forty decided to continue working with Ascend to grow their business.
Keep Building: Increase Business And Accelerate Growth
Now that 48forty was geared for success with their new website and HubSpot marketing tools, it was time to implement a content marketing and lead-generation strategy, as well as build out and optimize associated workflows and reporting.
Content Strategy to Fuel Engagement and Conversions
48forty understands that creating thoughtful, new content is integral to establishing their new brand, building their credibility and prominence online, and attracting visitors. Our strategy centers around creating materials that are relevant and useful to their target audience, whether in the form of a blog, downloadable guide, or video. These resources include relevant CTAs, links to pillar pages and other posts to keep visitors on the site longer (and better yet, convert them into leads.) Website content is promoted to HubSpot contacts via email and lead nurture activities, and to target audiences via paid social.
Blog and Content Offers
48forty's blog shares a variety of industry insights and actionable advice. Along with Ascend's guidance and input, a number of different employees are involved in authoring content and sharing their expertise. It is updated 1-2 times per month and has earned more than 700 subscribers.
An intentional mix of pop-up forms promote content offers and the blog subscription throughout the website, based on user behavior. Leads are nurtured using inbound best practices to encourage them to request a quote.
Social Media
Social media is used to share content and company updates, and has been an effective tool for building community and brand awareness online, as well as driving contacts to the site.
When it comes to social media directly generating leads, 48forty understands that conversion is not necessarily going to be immediate. Social media is just one aspect of our overall content strategy. That said, we are seeing notable success on social media when it comes to lead generation. Drilling down to contact property Original Source in HubSpot, 1% of all requests for quote have come directly from social media.
Video
Our video team worked with 48forty to improve upon existing video and create new animated explainer videos to communicate important messages. Videos are promoted on their website, blog, and across social media on an ongoing basis.
Ascend edited shots and added explainer text and graphics to 48forty's brand video to help communicate the company's value proposition.
Ascend wrote and created this video to illustrate 48forty's environmental impact during sustainability month in April 2019.
This short explainer video summarizes 48forty's value proposition and was created and sized just for paid social.
Through targeted campaigns, the videos have been effective at increasing brand awareness, having earned 52,923 impressions on Facebook, and 35,572 impressions on LinkedIn.
More recently, our team has used video to present educational and helpful tips to 48forty's target audience.
It should come as no surprise that video has been a powerful tool for demonstrating 48forty's level of service offerings and industry expertise. We plan to continue to incorporate video as part of 48forty's ongoing content strategy.
Reputation Management
With 40 locations across the US, 48forty can't manage all their listings on their own. We've implemented a reputation management program to monitor and reply to feedback so that the company can improve where needed and commend plants that have gone above and beyond.
The Results: Reporting and Collaboration
Natalya Calleja, Marketing Director at 48forty Solutions, discusses the results she has seen since working with Ascend Inbound Marketing.
Each month we provide detailed reporting of 48forty's website, lead generation, HubSpot performance, and paid ads and deliver recommendations on areas to improve and areas to apply more force.
All in all, the combination of a high-performing website and smart content strategy is working for 48forty.
Those three major goals 48forty had in early 2018? Check. Check. Check.
Now that the website has been live for over a year, we've been able to evaluate growth year over year. After an already strong first year, sessions are up more than 200% when compared to last year, and new contacts are up 151%. We continue to see an increase in organic traffic since launch as well.
In fact, more than 77% of leads come from organic search, demonstrating the effectiveness of the website build and content strategy.
"We have been working with Ascend Inbound for over a year now and our experience with this agency is unmatched compared to others! They have provided us with timely/quality service, our brand growth in PPC & organic search has been incredible and they really take a lot of pride in providing us statistical data to reinforce the goals that we want to hit."

– Natalya Calleja, Marketing Director
48forty is a data-driven company, and expects a certain number of leads per month. Even better, 48forty has seen a 332% year-over-year increase in new leads and their customer base continues to grow since partnering with Ascend.