How to Start Your YouTube Marketing on the Right Foot

YouTube is the second-largest platform used to access content after Google. What no one told you is that Google favors YouTube hosted videos above all other online video content for search results.
If your brand doesn't yet have a channel hosted on YouTube, you are missing out on some serious marketing opportunities. Remember that many prospects, no matter the industry, search YouTube and watch videos both for business and entertainment.
As can be expected, YouTube is a highly competitive platform. There are over 50 million content creators who are regularly churning out new video content. The good news is that only a fraction are competing within your niche. 👏
This guide will help you build a strong YouTube business channel and start competing for marketing results on this incredibly popular platform.


via GIPHY
1) Configure Your YouTube Channel for Success
The first step is to build your YouTube channel and prep it for success. Just like all other social media platforms that you have created and worked on, you will need to make an account, write a few catchy blurbs about your brand, populate the channel with icons and banner art, and ensure that the visuals on your channel appeal to your prospects and is relatable to both your brand and industry.
- Channel Account and Icon
Start by creating the account that you'll use to create the channel. You want your channel to be brand new and unassociated with other accounts.
🚧 CAUTION: DO NOT ACCIDENTALLY USE YOUR PERSONAL ACCOUNT OR THE PERSONAL ACCOUNT OF A STAFF MEMBER. 🚧

Create your new account and name it after your brand. Include your usual branded social media icon.
- Name the Channel
Next, create your channel through the company's YouTube account. You'll want to give the channel an empowering brand-based name. Many businesses name the channel directly after the company, but this is a great opportunity for you to get creative 🌈.


via GIPHY
- Optimize Settings
Take a look at your channel settings. Each brand will have their own channel management preferences so we can't give you a one-size-fits-all guide here. However, YouTube makes it fairly easy to figure out how to adjust the settings the way you'd like them that suits your brand.
And if you don't like your settings the first-time around, you can always go back and make changes, as you hone your channel to fit your brand.
- The About Section
Write a catchy blurb about your brand. Include the purpose of the channel in your description/about section. This blurb will show up in many different places on the site relating to the channel, so put some thought and verve into your writing.
- Channel Art
Last but not least, pick your most compelling channel art. You will need at least one big impactful banner that will top your main Channel page. Follow YouTube's guidelines for the banner's size and composition.
2) Define Your Target Audience
Your business has a target audience that consists of your current customers and prospects, people who you'd like to become your customers.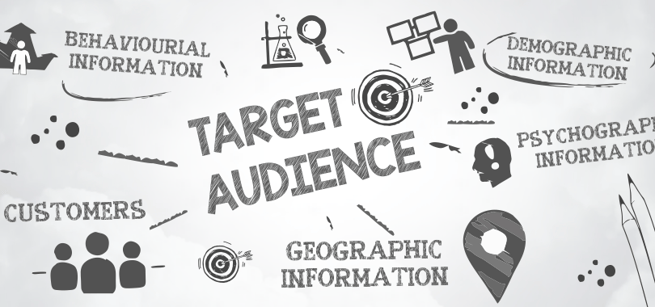 The best place to start when defining your target audience is with your current buyers' personas that are being used by the marketing team. If you currently don't have any buyers' personas, this is a good opportunity to take some time to develop them. Buyers' personas are simulated individuals who represent each of your primary buyer demographics. They have names and backgrounds that help marketers visualize a real person they are marketing to, whether they are using a personalized or generalized strategy.
Of course, for video marketing, you're not just figuring out who your potential buyers are and what motivates them, you also need to determine the type of videos your audience is interested in watching. Don't be surprised if your research reveals that you may need multiple videos to appeal to varying aspects of your target audience.
Some audience members watch short funny videos, some only exclusively watch how-to's and industry guides, and others enjoy in-depth expert interviews exploring industry thought leadership.
It all truly depends on what your target audience likes to watch.
3) Gather Inspiration from Other Channels
Another great place to get inspiration for your video series is to look at what other brands are up to and to determine what is currently trending on YouTube.
There are so many different ways to make branded videos, from comedy series to serious industry content. Initially, you might be uncertain about the style and content that would work best for your brand. Consider taking a look at other channels and taking note of the features that you like best and what you think your audience would like best.
via GIPHY
Look at the videos your competitors are making as well. If they are great videos with many views, take notes and decide what aspects you'd like to emulate. If they aren't very 🔥, take note of the things you didn't like, what you'd avoid, and how you could possibly execute a similar video targeted for the same industry with a similar target audience that would yield better results.
4) Optimize Your SEO for Each Video
Finally, we come to staying competitive with the videos themselves. Whatever the style you implement and the content you chose to create for your branded videos, there are a few universal tips that will help your videos rank better in search engines with well-honed SEO.
An important thing to ✍️ is that web crawlers can't watch videos, so it's all about your text content and metadata.

- Keyword Video Titles
Use your hottest 🔥 keywords in the video titles. Be creative and descriptive so your video titles are handy to search, show up in the best searches, and inform your audience of exactly what's in the video. For a bonus challenge, remember that shorter and funny titles are better.
- Provide Accurate Closed Captions
Google can't watch the video, but it can read your closed-caption metadata. Take the time to write the transcript of your video and ensure you accurately feed the captions into your video. Not only is this great for SEO, it's also incredibly welcoming for both hearing-impaired viewers and individuals who can't use sound when they're browsing YouTube at work or sharing a public space.
- Write Detailed Descriptions with Helpful Links
Your description is the single most powerful SEO tool for any video. What you put in the description can be packed with keywords, helpful backlinks, and of course, the information your viewers are looking for when they hit that 'view more' button that reveals the entire description. Do your best writing here and don't forget to link to your site, your guest's site, and anything else that's relevant.
- Include Transcripts in the Description
If the transcript is short, drop it into the description as well as the captions. If it's too long, provide the outline with helpful timestamps so that viewers can jump to the exact section they want to view. This is a great practice to do for SEO.
- Participate in the Comments Section
Finally, get involved in your own comments section. If viewers ask questions, make insightful comments, or even just crack jokes, show that your brand is lively and invested in audience engagement.