How Dan Tyre's Pipeline Generation Bootcamp Helped Our Agency Supercharge Year-End Sales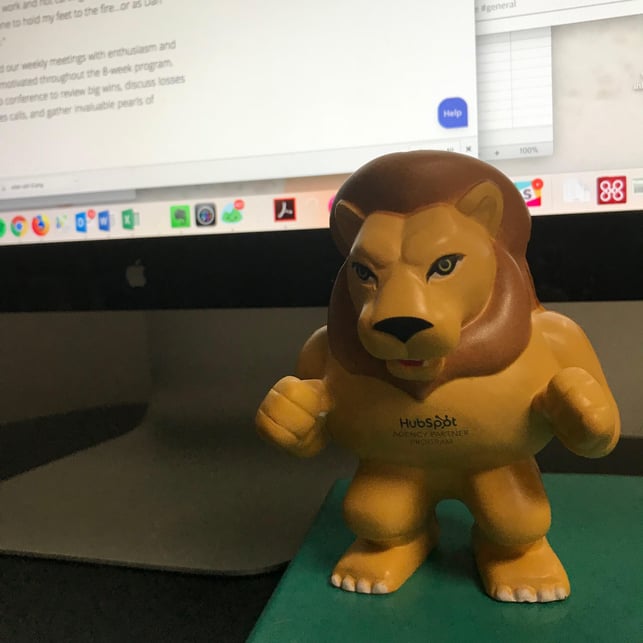 I recently completed Dan Tyre's Pipeline Generation Bootcamp. Dan is the Sales Director at HubSpot and was instrumental in helping HubSpot grow from a small startup to a publicly traded company. Needless to say, it was quite a privilege to attend a bootcamp led by such a successful sales leader.
The timing was perfect, too. Ascend reached a plateau earlier this year. We had a steady stream of work, but we weren't bringing in a lot of new clients. I was spending most of my time on client work and not carving out time for selling or marketing Ascend. I needed someone to hold my feet to the fire...or as Dan would say, "release the LION within."
Dan is a master sales coach. He led our weekly meetings with enthusiasm and humor and kept our small cohort motivated throughout the 8-week program. Each week our cohort met via web conference to review big wins, discuss losses (or lessons), conduct role play sales calls, and gather invaluable pearls of wisdom from Dan.
What were my takeaways?
1. Start with positioning
Who do we serve, what do we do, and why do we do what we do? These are core questions any business owner should be able to answer, but the Ascend team hadn't taken the time to pin these answers down in writing. Dan made me realize that positioning was crucial. If you can't clearly articulate your positioning, then how in the heck will you know who you should sell to?
Our positioning statement now reads:
"We foster long-term inbound marketing and web design partnerships with businesses with $2M or more in annual revenues looking to grow annual revenues by 15% or more that are located throughout the Southeastern United States, because we value client relationships and we thrive on solving their marketing challenges by providing lead generation & customer acquisition."
What we learned in the process:
We prefer long-term partnerships vs. short-term projects. From now on, we will seriously evaluate short-term projects and only take on those that present a unique challenge that we're eager to solve, or those that present a clear path to a long-term partnership.
Our ideal client doesn't fit any particular demographic mold, but we work well with retail and professional services clients who understand inbound marketing and value long-term prosperity vs. short-term quick wins.
2. Create a Sales Plan and Identify Target Accounts
Before Dan's bootcamp, I averaged 3-4 sales meetings a month, and closed 1 or 2 deals a month. I was doing no outreach; all leads were word of mouth or inquiries from our website. Dan and our Channel Account Manager at HubSpot helped me identify a list of target accounts. Using Dan's scripts and followup methods, I was soon making 10-20 sales calls and setting 3-4 meetings each week! Now we are closing at least 3 deals a month.
3. Follow Up, then Follow Up Some More
Before PGB, I thought that one email and one phone call were sufficient followups for a proposal. Dan told us that we needed to do FOUR TIMES that! I amped up my followups and I can attribute at least two deals closing to that extra amount of persistence. I use the HubSpot CRM to track who I need to follow up with and when.
The Bottom Line
Here's the big takeaway I got from Dan's bootcamp: make time for sales and use tools and resources to help you sell more efficiently. It's not rocket science, but it does take commitment. With results like these, I know I owe it to Ascend to keep up this level of commitment. We just closed our biggest deal this year, and I hope this is just the beginning!